World of Warcraft: Dragonflight is scheduled to arrive on November 28 in the USA and the Western Hemisphere, and 29 for the EU and other countries. As excitement builds, no other feature has received as much attention as the newly-developed Dracthyr Evoker race-class combo. Unique Dracthyr racial capabilities like flight and innovative mechanics such as Hold and Release empowered spellcasting have made Evokers a subject of intense fan interest long before Dragonflight release. Between alpha testing, interviews, and official previews, a lot of pertinent information has been revealed already. Read this overview to find out the key facts concerning this novel adventurer option!
Dracthyr Evoker Class Basics
We will begin by providing a rundown of the main features and characteristics of this class:
Evokers are exclusive to the new Dracthyr race. Those heroes are the only character type permitted for Dracthyr adventurers;
Evokers are a Hero Class, like Death Knights and Demon Hunters. A Dragonflight owner could have one Evoker adventurer on a server at a time. The first may be created anywhere, and later ones require having at least one level 50 hero on that server;
Each such adventurer is created as a level 58 character and begins to play in a separate starter zone with its own unique questline;
While creating your Dracthyr character, you must decide which of the two main World of Warcraft factions they will join, which has some effect on their quests;
Dracthyr heroes switch between the humanoid Visage and the raw draconic shape, both of which may be customized extensively. They also possess several powerful racial features, including a limited flight over the Dragon Isles archipelago, where Dragonflight takes place;
Evokers are casters, wielding damaging and supportive spells from a medium distance. Certain among their spells may be empowered using a Hold and Release system, enhancing their effects in various ways in exchange for a longer casting process;
Evokers can pick between two specializations: Devastation and Preservation, whose purpose is inflicting damage and supporting allies, respectively;
Most Evoker spells draw on Mana. Some especially formidable spells also draw on a unique power source called Essence, which regenerates passively when the hero is not engaged;
Their most important stat is Intellect since it raises spell power;
An Evoker could wield Intellect daggers, fist weapons, maces of either kind, axes, swords, and staves. Evokers may not dual-wield one-handed weapons but may employ spellcaster off-hand items;
The main Dracthyr armor type is Mail, though Evokers could also wear Leather and Cloth pieces;
Their user interface color has been described as "Dark Moderate Cyan."
Below, both components of the race-class option are explored in more detail, together with the gameplay experience they can expect in Dragonflight content and elsewhere.
Who Are the Dracthyr Evokers?
According to Dracthyr lore derived from various official sources, the Dracthyr is a demihuman variation on dragonkind, purpose-made to fight against the enemies of dragons. Their maker was no lesser figure than Neltharion, better known to most World of Warcraft fans as Deathwing. His creations joined together the innate elemental affinity of dragonkind with the intelligence and versatility of humanoid races.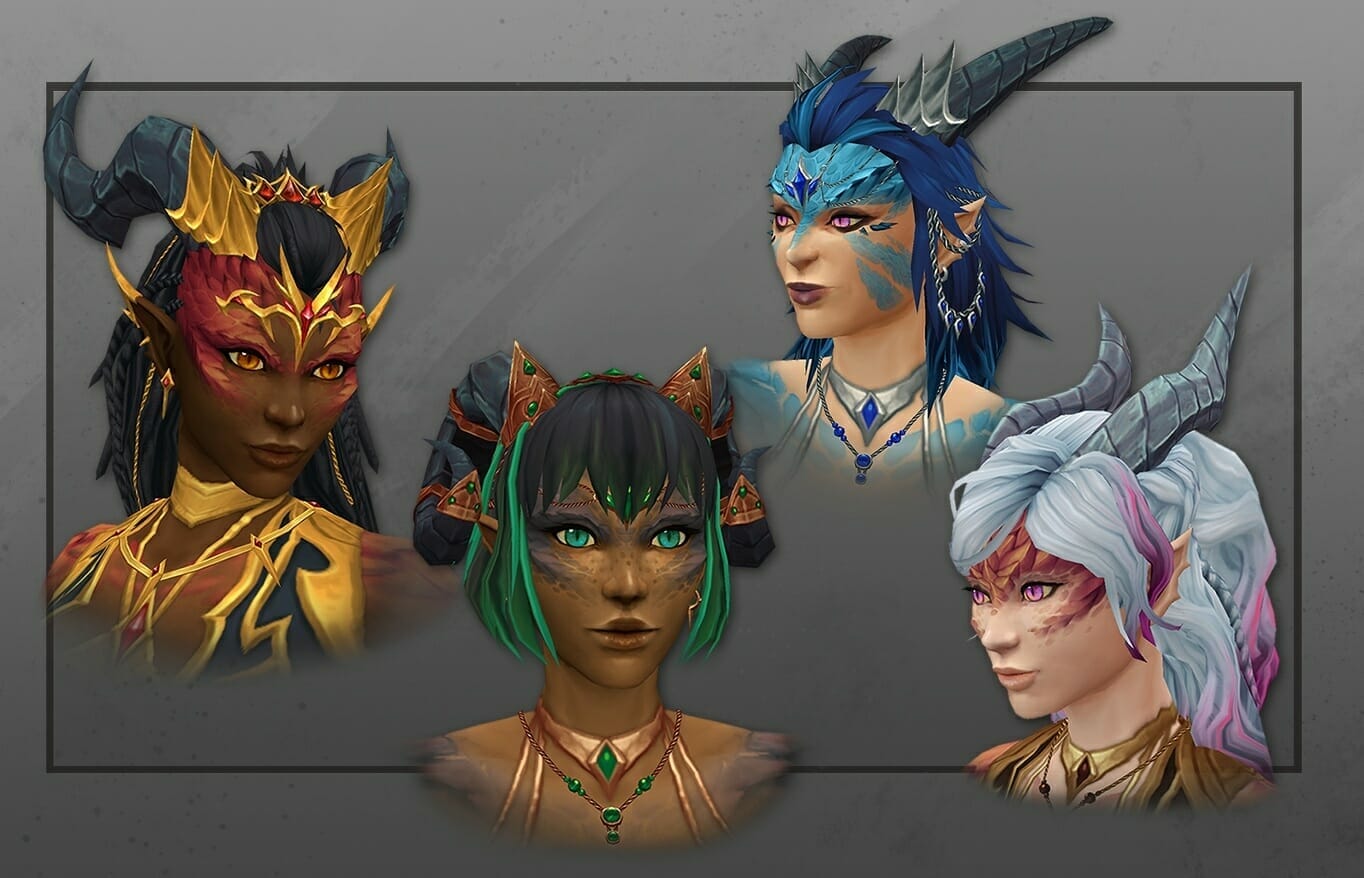 They have been granted the special magic of the major Dragonflights. All Dracthyr belonged to one out of five weyrns, according to their combat specialty. Evokers came to be the greatest among them, as they have mastered all roles and elements and learned to empower their spells with Essence.
Twenty millennia ago, the Evokers and all their kindred were placed in stasis by Malygos. The sleepers were awakened when their secret sanctuary, the Forbidden Reach, came under attack from proto-dragons seeking to liberate their leader Raszageth. Those events are featured in their introductory storyline. During the chaos, one weyrn was all but wiped out and another deserted.
The rest decided to seek a place in modern-day Azeroth, aided by some of Neltharion's kin. Two weyrns joined different major factions, while the last remained neutral, staying in the Dragon Isles. Despite having learned to take on humanlike Visages, Dracthyr names and appearances reflect their draconic heritage.
Dracthyr Racial Features
Since the Dracthyr race is so strongly connected to Evokers, no discussion of the class could overlook its remarkable racial features. The first thing that comes to most people's attention is shape-shifting. The Visage form still has draconic traits, like scales and horns, but the draconic shape is bigger and features wings, tails, claws, and snouts. Both shapes can be customized separately, with many options, including body types. For the most part, the adventurers can transform seamlessly from one to the other. However, certain powers require assuming the draconic form. If the Evoker transforms in combat, they will only be able to change back once it ends.
The most notable draconic power is limited flight, currently exclusive to the Dracthyr home archipelago. Dracthyr heroes can reduce their falling speed to glide or rise up into the air, controlling their movement by accelerating or ascending to greater heights. In addition, some Evoker powers could be deployed while flying. The flight system uses a restricted version of the mechanics developed for Dragonflight Dragonriding mounts, factoring in momentum and different altitudes. Despite limitations, it offers a convenient way of exploring hard-to-reach spots in the islands. Of course, Evokers would also soon unlock Dragonriding mounts and their full flight system like the other characters.
The authentic Dracthyr physiology enables some unique fighting moves. Tail Sweep sends nearby foes flying skywards, staggering them after the drop, while Wing Buffet repels opponents who stand before the hero. The Visage form, meanwhile, gives the hero's teammates a health recovery buff when they are not fighting. There are some passive skills of interest, most notably a Perception buff that also gives those heroes an increased likelihood of discovering rare reagents while harvesting resources. Another perk enjoyed by members of this race is access to a new racial mount, the Vorquin – a sort of dragonized horse that is not quite like any other riding beast seen in World of Warcraft.
Evoker Class Details and Specializations
Evokers are flexible spellcasters who are meant to be effective at medium range, usually standing between the normal ranged fighters and melee frontliners. Evoker abilities are spells that cost Mana and, in some cases, Essence – a unique Evoker resource that works much like Death Knight Runes. The Essence-fuelled spells are especially powerful but force players to make careful decisions about their resource management. However, there are ways to expand the Essence pool, accelerate recovery, or remove the cost of casts.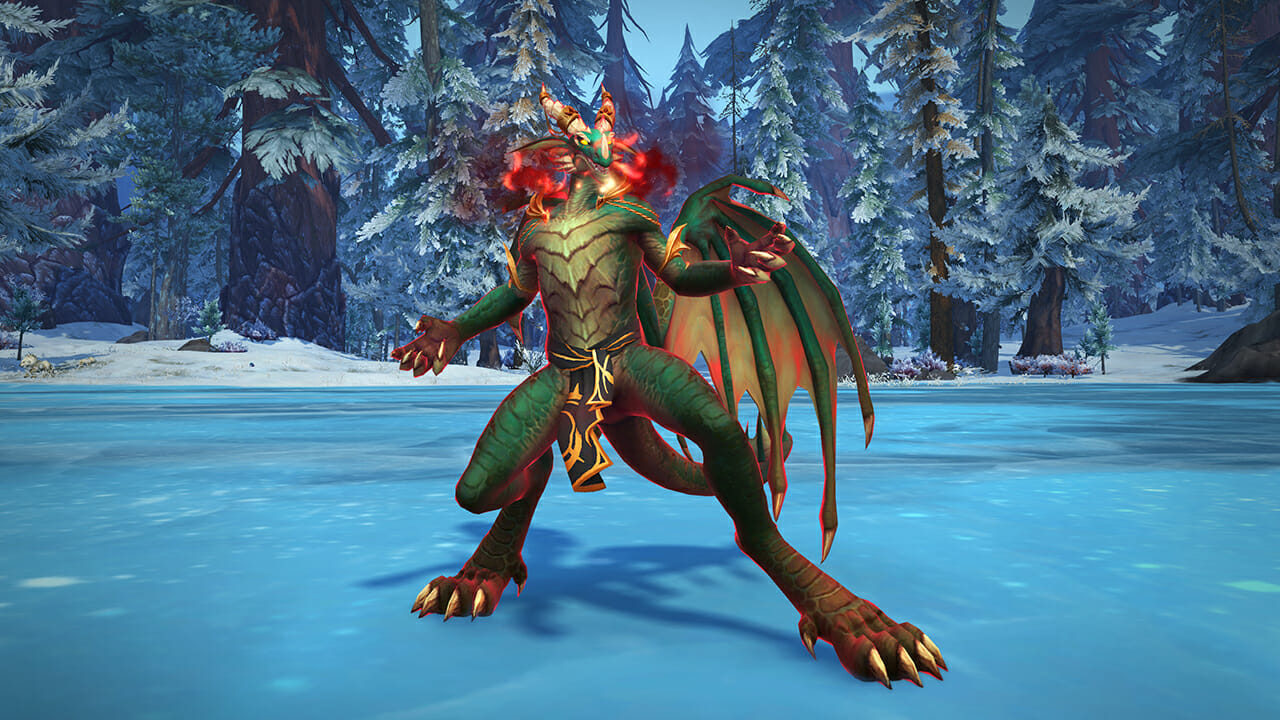 Another special Evoker feature is the ability to empower certain spells through Hold and Release mechanics. Hold and Release means that the player needs to hold and release the cast button for the spell, rather than activate it immediately. Holding for long enough makes the ability more effective in some way or another, with up to three thresholds of empowerment. An example of the Hold and Release system can be seen with the Fire Breath spell. Its default form is a simple conical flame attack, but players can hold and release after four, eight, or twelve seconds have passed to add a progressively stronger damage-over-time component.
All Dracthyr Evokers can draw upon a versatile spread of abilities covering healing, buffing, mobility, and dealing with spell damage. However, their two specializations lean into different sides of their innate magical gifts. Preservation grants access to additional healing abilities, whereas Devastation unlocks attack spells of all types (single target, area of effect, and so on). In addition, several such powers use Hold and Release mechanics, reinforcing Evoker versatility further. Both Evoker specializations can also deploy potent utility spells, including party buffs. Readers can check out the talent trees for both the Devastation Evoker Talent Calculator and Preservation Evoker Talent Calculator pages.
Dracthyr Evokers in Legacy Content
The WoW Dracthyr experience will not be confined to their home region. Provisions have been made for revisiting older content in at least two previous expansions. Evokers will get to explore the Shadowlands during the pre-patch as well as later, making it important for them to have their own spin on the local systems.
They get one shared Covenant Ability providing an active boost and a passive buff, supported by a Legendary power that increases the buff. On top of that, they receive a full suite of Evoker Conduits and Torgast Anima Pohwers. Evokers will not have their own Order Hall or Artifact weapon in Legion content. However, they will receive an individualized introductory questline before taking on Legion quests.
Will Dracthyr Evokers Hold Up?
It should be remembered that Dragonflight is still in development, and many of the fine details regarding Dracthyr Evokers are subject to change. That said, the Evoker class outline is already set in stone, and Dragonflight Alpha testers have shared their thoughts on how Evokers play. Overall impressions are quite positive. The medium-range focus and Hold and Release mechanics can take some getting used to and may need to be more manageable in some situations. Also, Evokers are definitely not meant for tanking. However, they have many formidable abilities at their disposal and can expect to shine in a variety of contexts thanks to their flexibility. The Evoker multi-target potential is especially promising for raiding.
How CakeBoost Can Help
There are many exciting features coming in the Dragonflight expansion, but the Evoker class surely counts among the main highlights. Many Worlds of Warcraft fans are doubtless planning to create their own Dracthyr heroes at the first opportunity. However, implementing the builds conceived using the Evoker Talent Calculator will require a lot of effort that players may find discouraging. Despite their advanced start, Evokers will still need to level up before they can unleash their full potential. Given the size and complexity of upcoming content, not everyone will have the free playtime to achieve this goal quickly.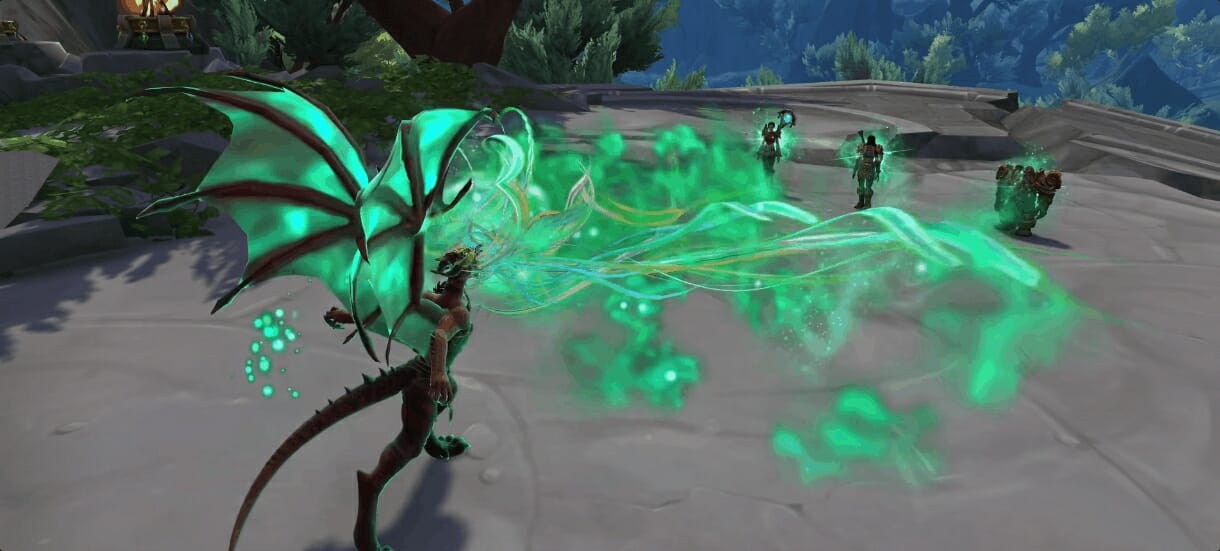 CakeBoost's WoW Dragonflight boosting services present an ideal solution for this problem. Our Dragonflight Power Leveling offerings allow customers to reach any level they want swiftly and without needing to do anything themselves. Our powerleveling experts will play non-stop and employ efficient methods to reach leveling goals without delays. After finishing their introductory sequence, Evokers will be in a perfect position to benefit from Dragonflight Power Leveling 60-70 services. Along the way, they will acquire gear and other things necessary to perform in endgame content. Additional Dragonflight Character Boost services can round them out with carries like Renown farming and advancing chosen professions.
Frequently Asked Questions About the Dracthyr Evoker
Q: What classes can a Dracthyr be? Can Dracthyr only be Evokers?
A: As of the Dragonflight expansion, Dracthyr adventurers are restricted to their racial exclusive Evoker class. The reason given for this controversial decision is that race and class have been designed to complement each other in terms of both mechanics and storytelling.
Q: Can Dracthyr be another class in the future?
A: During a GameSpot interview, the developers suggested that it is not impossible for Dracthyr to grow beyond Evokers, but it would be a matter for later expansions. Right now, the focus is on making Dracthyr Evokers work as a combination, but Dracthyr's racial abilities could have interesting synergies with other classes.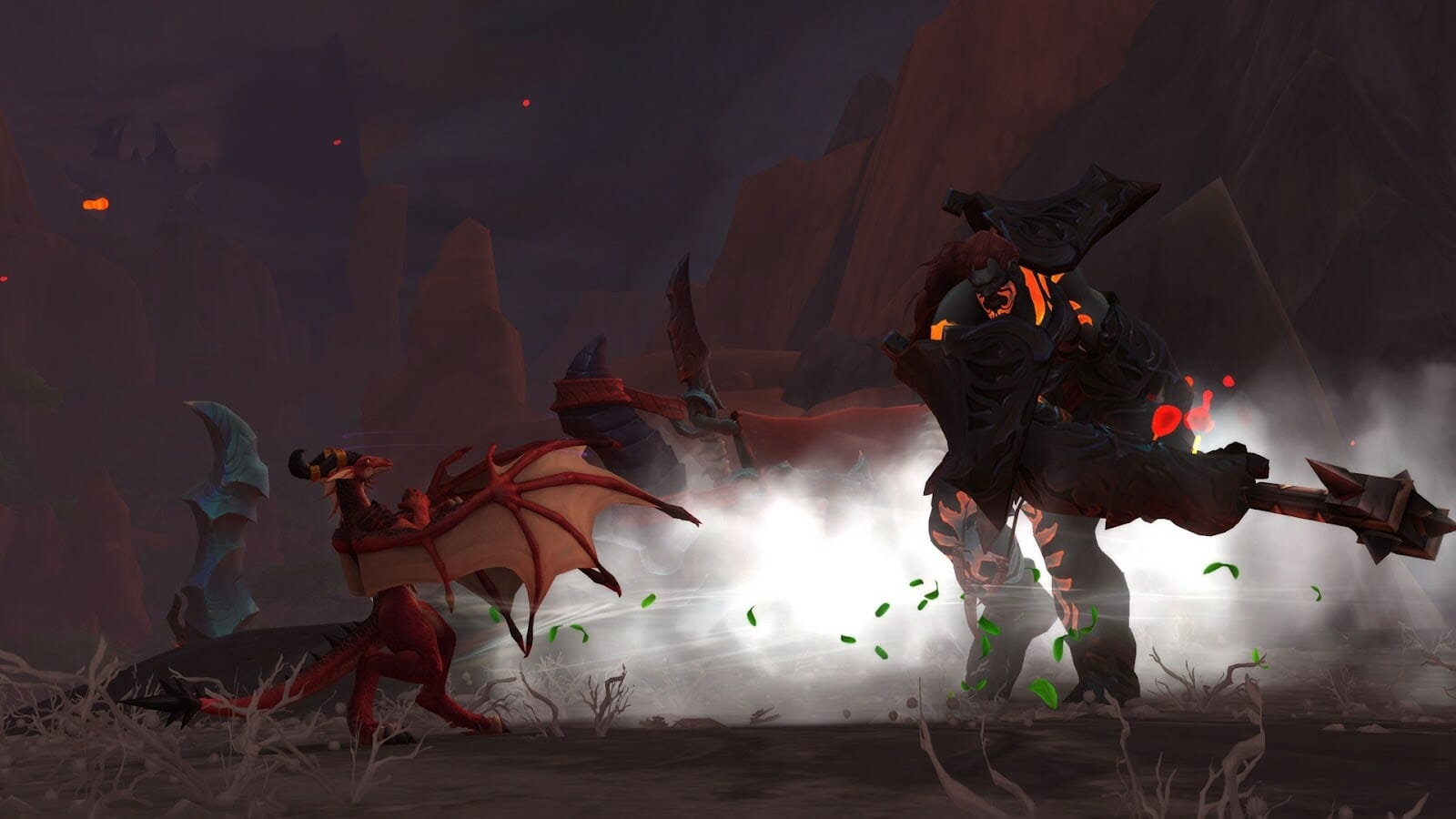 Q: What level does Dracthyr start at?
A: Instead of leveling from scratch like adventurers from other core races and most classes, Dracthyr Evokers start playing at level 58.
Q: What are the restrictions on making Dracthyr Evoker adventurers?
A: Only Dragonflight owners could roll up Dracthyr Evokers. At least at first, Dracthyr Evokers will be restricted to a single Evoker in a realm per player account. Any Dragonflight expansion owner can create a single Evoker in any realm without other preconditions. All subsequent Evokers could be generated solely in realms where the player already possesses at least one adventurer that has leveled to 50 or higher. After an Evoker has been deleted, another can be made on the freed server.
Q: When will Dracthyr be playable?
A: Dracthyr Evokers will become playable in retail World of Warcraft during Phase Two of the Dragonflight pre-patch, which is going to arrive on November 15 according to Blizzard. It shall be an exclusive option for those users who have placed a WoW Dragonflight pre-order. Some lucky fans can already try out Dracthyr Evokers in the Alpha. Other enthusiasts are forced to content themselves with the Evoker Talent Calculator in the meantime.
Q: What specializations will help determine what classes Evoker can be like?
A: Dracthyr Evokers will have two specializations in Dragonflight: Preservation and Devastation, focused on healing and ranged damage-dealing, respectively. Both benefit from basic mechanics like the hold and release spell empowerment system.
Each already has an Evoker Talent Calculator that players can use to plan ahead. The Devastation Evoker Talent Calculator is here, while the Preservation Evoker Talent Calculator is here. Game Director Ion Hazzikostas stated in an interview that another specialization could be added later, but it is not a current priority. Curiously, this third specialization might not be a tank since the Evoker class is expected to focus on maneuverability and engagement at range.
Q: Can the Dracthyr fly?
A: Dracthyr adventurers can activate Soar to fly over the Dragon Isles using a limited (no progression) form of the Dragonriding mechanic. This ability cannot be used in other parts of the World of Warcraft universe as of the Dragonflight expansion. They can also decelerate falling with Glide.
Q: Can the Dracthyr fight in Visage form?
A: Some Evoker combat abilities can be deployed without the hero switching into their draconic form. However, many spells automatically shift the adventurer into that form, only allowing them to return to Visage after combat is over.
Q: Can Dracthyr Evokers dual-wield their weapons?
A: Dracthyr Evokers can wield their Evoker weapons and off-hand items, but they cannot dual-wield the former, like all casters.