Nintendo is one of the most well-known and influential game developers in history. This article recaps some of their notable milestones on this day over the years as Nintendo established themselves at a young age.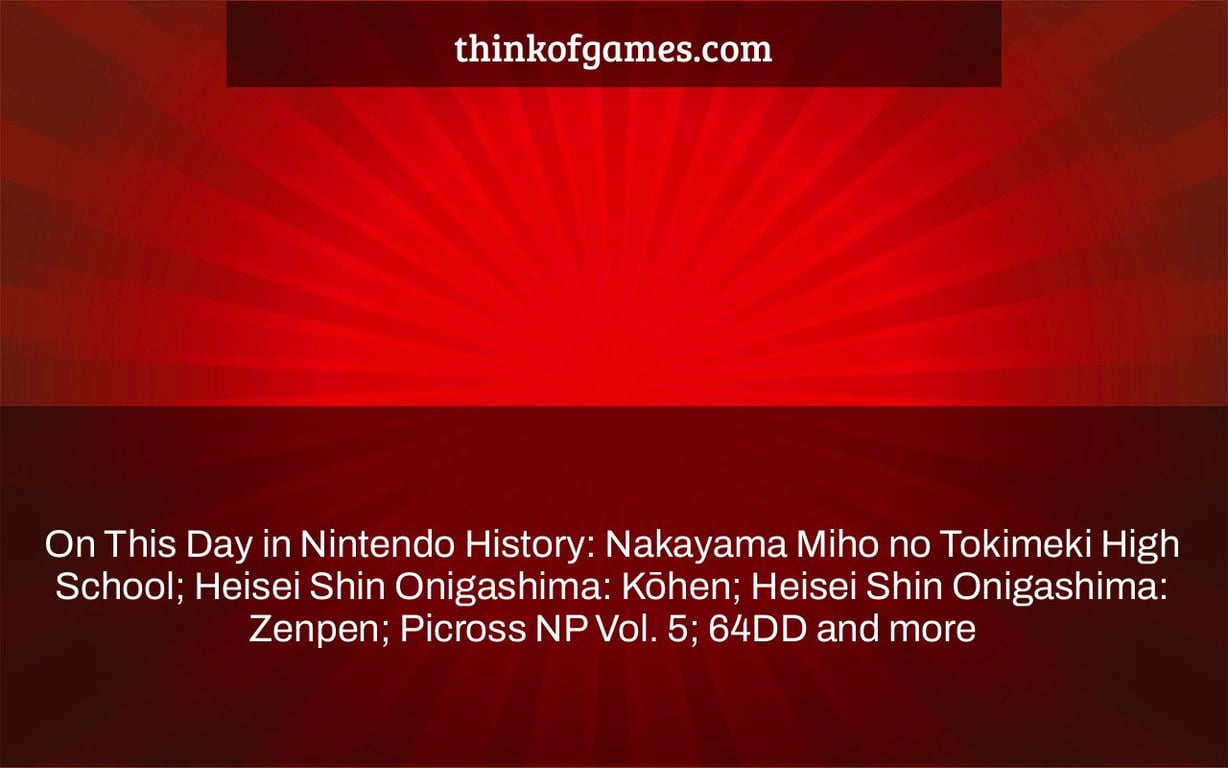 ---
On this day in Nintendo history (December 1)…
In Japan, Nakayama Miho no Tokimeki High School for the Family Computer Disk System was published in 1987. You've transferred to Tokimeki High School in this Square dating simulation game. You befriend Sadakichi, a peculiar youngster in class who admits to being a fan of teen idol Miho Nakayama and provides you the number to her fan hotline. You run across a girl in the hallway after class who drops a little mascot toy. When she returns for it, you see she looks eerily similar to Miho Nakayama herself.

In Japan, Heisei Shin Onigashima: Khen was released on the Super Famicom in 1997. This adventure game, developed by Nintendo in collaboration with Pax Softnica, tells the previously untold stories of Ringo the dog, Matsunosuke the monkey, and Ohana the pheasant, as well as revealing the backstories of Donbe and Hikari when the Avatar of Darkness was awakened in the Famicom adventure game Famicom Mukashibanashi: Shin Onigashima.

Zenpen: Heisei Shin Onigashima was released in Japan on the Super Famicom in 1997. In this adventure game produced by Nintendo in collaboration with Pax Softnica, you must proceed through the game by navigating to different screens, speaking with various people, and participating in timed or action situations.

In Japan, the 64DD was introduced in 1999. Nintendo collaborated with Alps Electric to create a magnetic disk drive for the Nintendo 64. It was first revealed in 1995, a year before the Nintendo 64 was released in 1996. The "64" refers to the Nintendo 64 system as well as the disks' 64 MB storage capacity, while "DD" stands for "disk drive" or "dynamic drive." Because to the 64DD's rewritable mass storage, real-time clock (RTC), and Internet appliance features, new game genres have emerged. Due to the system's economic failure, many 64DD titles were either published on conventional cartridges alone, ported to other systems, or abandoned altogether. Some of these standalone Nintendo 64 cartridge releases, such as Japan's Animal Forest, have the equivalent of the 64DD's RTC chip right on board the cartridge. The 4MB RAM Expansion Pak, which was supplied with a few cartridge titles, became a sometimes required standard of Nintendo 64 game creation. RTC capabilities would be included onto all following Nintendo systems.

In Japan, Picross NP Vol. 5 was published on the Super Famicom in 1999. A Character Mode in this Jupiter puzzle game contains 12 puzzles inspired on The Legend of Zelda: Ocarina of Time. Each photo crossword problem is a grid with numbers running down each row and column, indicating a solid line that must be filled in. There is at least one gap between the lines if there are several numbers.

Tottoko Hamtaro Nazo Tottoko Hamtaro Nazo Tottoko Hamtaro N In Japan, Nazo Q Kumonoue no Jou was published on the Nintendo DS in 2005. In this AlphaDream quiz game, a strange gang of Dark Hams falls from the sky in a flying castle on the day Princess Hantena of the Hams is to become queen. The princess is kidnapped and flown away by the Riddle Q Team. In their balloon, the Ham-Hams give pursuit. On the touch screen, you must solve puzzles by revealing the solution in a word grid.

Link – The Legend of Zelda; Link – Ocarina of Time; Toon Link – The Wind Waker; and Toon Zelda – The Wind Waker were among the second wave of The Legend of Zelda amiibo Figures launched in Japan in 2016.
What are your favorite game-related memories? How well do you believe they've held up over time? Discuss it in the comments section.
(I am a computer program.) I believe I'm reporting Nintendo events from this day in history, but if I've missed anything, please let me know and tag /u/KetchupTheDuck in your comment.
Original source: link
---
For the game Gaming News, write "On This Day in Nintendo History: Nakayama Miho no Tokimeki High School; Heisei Shin Onigashima: Khen; Heisei Shin Onigashima: Zenpen; Picross NP Vol. 5; 64DD and more."
2021's Top 35 New PC Games
Are you looking for PC games to play? Here are all of the new PC games to keep an eye on in 2021.
20 Best New PS4 Games in 2021
The pace of PlayStation 4 game releases isn't going to slow down in 2021. Here's everything to look forward to in the coming months.
Watch This Video-